So, you've decided to take the plunge and upgrade to synthetic turf for your field. Or maybe your turf is reaching the end of its lifetime and its time to replace it. Although savvy coaches and athletic directors know that having a high quality playing field can have a big impact, quality turf is not cheap.
Tom Cunniff, Director of Sales for Midwest Sport and Turf Systems, and I collaborated on some of the cutting edge fundraising ideas and we identified 10 top fundraising ideas for turf and other major athletic projects.
Go Corporate!  Consider adding advertising panels on your turf.  Pulaski HS did a great job getting six figure donations to finance much of their turf field.  Not sure who you could ask? Common business or corporations to consider are:
Health Care providers (who does your school use for athletic training purposes?)
Car Dealerships
Banks
Local companies who have a national footprint.   Here is a sample on the sideline- out of play for football: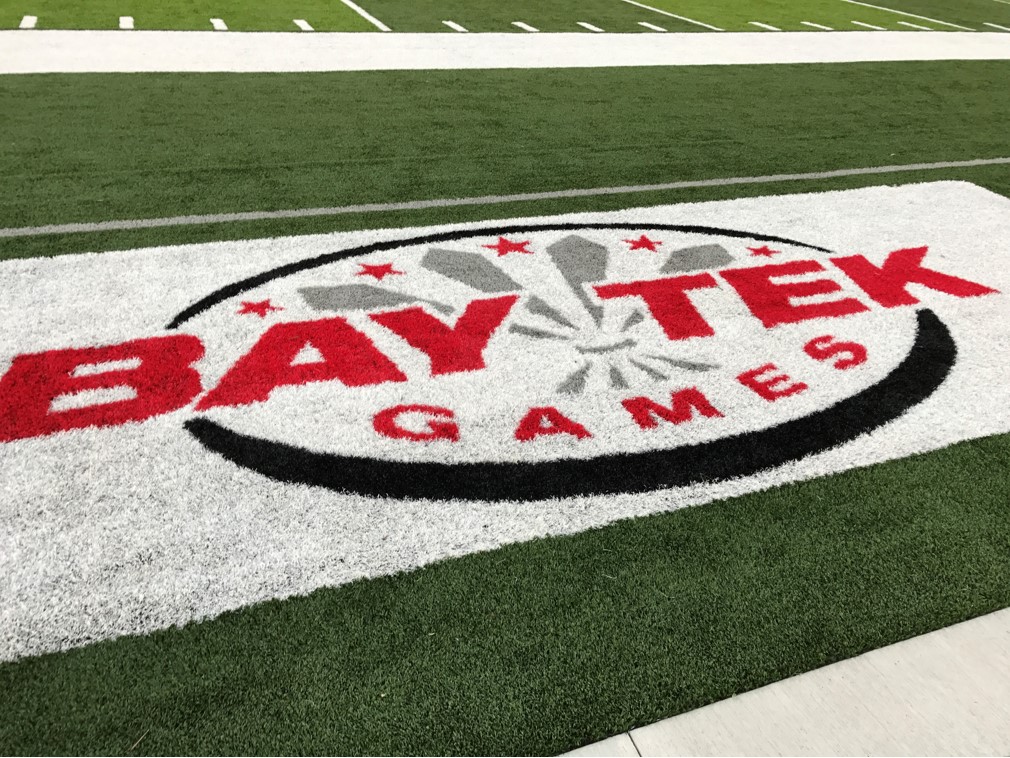 2. Hole in One!  Host a Hole in One challenge at a nearby golf course.  Hole in One challenges are easier to organize than many realize. You can offer amazing prizes, such as vacation packages, a Ford F-150, or even $1,000,000! After you settle on your prize, for a small fee you can purchase an insurance on a special event to cover the cost if some lucky golfer gets that hole in one.
3. Ask everyone to pitch in!  Small communities can raise big bucks!  Peer pressure with fundraising works!    For example, Amherst WI was able to raise $3.6M: https://www.classmunity.com/amherstwi/view-fundraiser.php?fundraiser_id=472
4. Start with the team.  Have your team raise money on a small scale while raising awareness for a greater need. Greenfield High School Football made fantastic use of this approach: https://www.classmunity.com/greenfieldwi/view-fundraiser.php?fundraiser_id=926
5. Annual Golf Outings. Golf outings can bring in tens of thousands of dollars.  You need a committee to help run the event with  hole prizes, hole sponsors, auction items, and maybe a beat the pro opportunity.
Menomonee Falls Booster Club's Annual Golf outing is a great example: https://www.classmunity.com/fallswi/view-fundraiser.php?fundraiser_id=129
6. Drive A Thon. Certain car dealerships will offer schools money per test drive for a day.  Have everyone signup in advance to test drive a new car.  The dealership will provide the cars, and all you need to provide the drivers.
7. 50/50 Raffles.  People like to have a chance to win money.  Select a club or team to canvas the crowd at events/games for donations.  A raffle license is needed to run raffles.  Licenses can take 60-90 days to be approved.  Plan in advance.
8. Small Business Challenge.  Ask businesses for a $10,000 donation that is contingent on getting 9 other donations for that same amount.  IE: Sammy's Hot Dog Stand, Johnson's Insurance, The Heat House Grill, and DJ's Billiards will each donate $10,000 if I can get 6 other businesses to donate $10,000.  Can I count on your donation?  Peer pressure isn't always good – but it is good with fundraising.
9. Scoreboard Sponsorships or a Digital Platforms. There is a difference for companies when it comes to marketing opportunities vs donations.  With a marketing opportunity, it is a win-win for both your atheltic program and the company. It also is worth remembering that marketing opportunities comes from a different budget than donations. And if possible, provide the opportunity for digital messaging. According to Daktronics, 86% of students prefer the digital messaging vs static messaging.
10. Apply for Grants.  There are numerous grant opportunities available for high schools.  Some of the grants start at $10,000.  Some we've seen eclipse $250,000.  Grant writing takes time.  Some grant applications are 2-3 pages, others require 300-400 pages of supporting documentation.  If your district has a grant writer, request assistance.  If you don't have a grant writer, there are professional grant writers that can be hired.
Want to learn more about how to raise funds for your next turf project? Drop me a line at ryan@classmunity.com