One of the most important aspects of fundraising is donor recognition. Thanking your donors is important for recognizing their contributions to your initiatives as well as for building a solid donor base. Although many schools are good at thanking donors immediately after a donation, a best practice we often see forgotten is thanking your top donors at the end of the year. This signals to your most supportive community members that you recognize their ongoing support and leads to continued contributions.
Once you identify your top donors, it is time to say thank you. Below you will find three effective ways to say thank you, followed by an explanation for Classmunity users of how to use your platform to identify your top donors.
1. Handwritten Letters from Students
Set up a thank you note station where your students can use a pre-written statement or craft their own thank you note for donors. Young students can decorate the cards/envelopes. These thank you notes will be cherished by your donors, and involving your students teaches about philanthropy and the importance of saying thank you.  
2. Modern HTML Emails
Email platforms such as Mailchimp or Constant Contact allow you to easily create attractive emails that can be sent at the click of a button. You can include heart-warming photos, links to the completed campaign and even a video of your group saying thank you.  Of course, if you don't have access to these platforms you can send individual emails.
3. Social Media Shout Outs
A simple, low cost way to recognize donors is by using social media. This is a great way to thank campaign donors, and can be done as soon as the donation is made. Many of our schools use twitter to thank donors and raise awareness of their campaigns. Also, it can be nice to send another acknowledgement of generous donors when a fundraiser concludes or at the end of the school year.
Regardless of how you say thank you, here are a few best practices. To start, include details about their gift(s) such as what was donated and to which fundraiser(s). Share with them the impact of their gifts and updates on the campaign. For example, if you went on a class trip or re-built a playground, send pictures in your thank-you note. For your top donors, thank them for being one of the most generous community members. You can find more resources on writing good thank you notes here:
5 Thank You Letters Donors Will Love

– From The Balance Small Business

Steal This Thank You Letter! A Sample Donor Thank You Letter for Your Non-Profit

– The Fundraising Authority
Before you can send your thank you notes, you need to identify your top donors. Below are instructions for using Classmunity to do so. If you are not a Classmunity user, contact your Business Manager for assistance.
How to find your top district/school donors using Classmunity: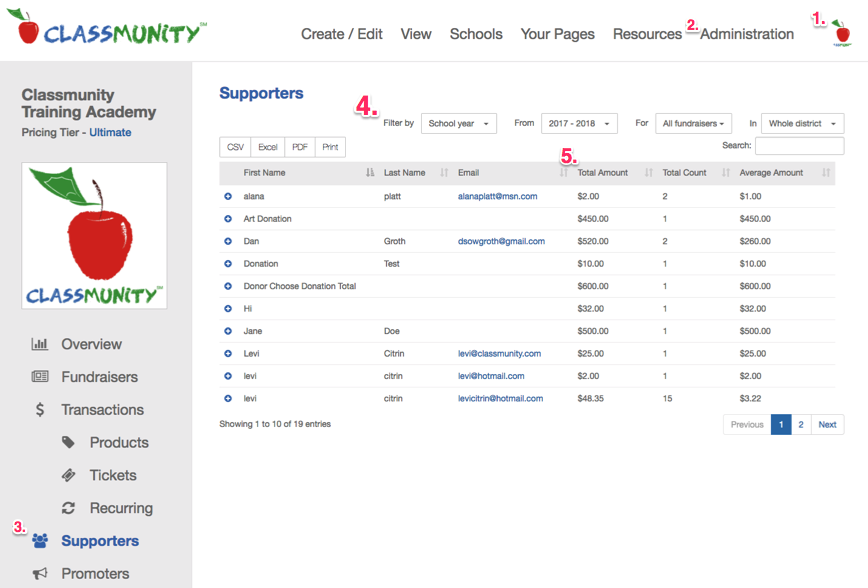 Log into classmunity (these donors are only visible to district level administrators)

Click on Administration in the top navbar.

Select Supporters from the left side menu.

Now use the filters to select your desired group of donors (e.g you could filter for a specific time frame or type of campaign.)

Then sort your donors by Total Amount to find the donors who have donated the highest total dollar amount. You can also sort by Total Count or Average Amount to find other top individuals who have supported your district.
How to find your top campaign donors (for non-admins):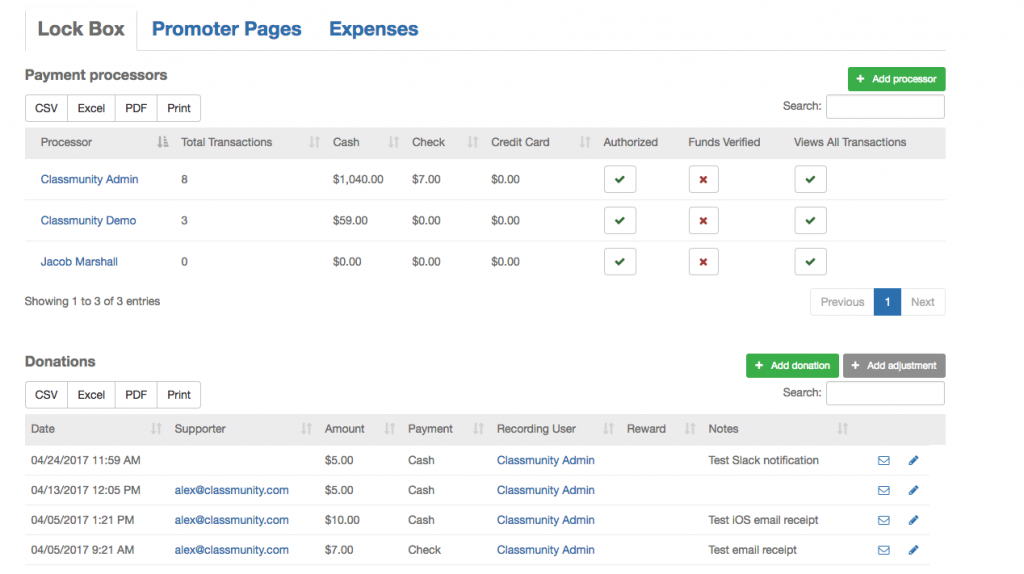 Log into classmunity.

Open your campaign page.

Scroll down to the lock box at the bottom of your campaign to see your campaign transactions.

Use the table to sort your transactions by Amount to find the top donations to your campaign.