Mobile and Online Fundraising Software for Schools
Promote
Engage more donors
Professional, district-specific site
With a professional website dedicated specifically for your school district, your community members can donate with ease.
One-click social media sharing
Get the word out to your community with the click of a button.
Collect donations on the go
Easily accept cash, check and credit card donations at events such as sporting events, banquets, dances and more.
Raise more money with STUDENT PAGES
Students now can have their own dedicated pages on your school's Classmunity system. Each student can create their own personalized webpage to help raise more money for your fundraisers. The page will provide a summary of the campaigns they are promoting and allow them to quickly and easily promote their campaigns to family and friends. We also provided administration peace-of-mind with our content monitoring system so administrators can quickly and easily keep an eye on what's being shared.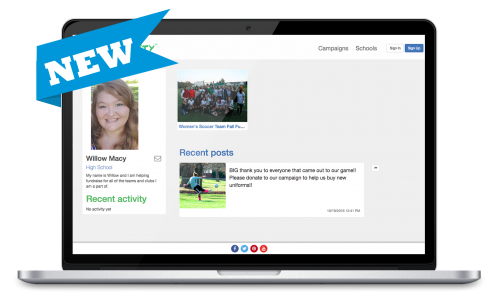 Protect
Keep track of every penny
Integrated pre-approval process
You no longer need to rely on verbal approvals or emails for fundraisers. Teachers can quickly and easily create campaigns, and administrators can approve at the click of a button.
Real-time fundraising reports
Conveniently  track of all your fundraising from your desktop, laptop, tablet or smartphone.
Secure credit card processing
Protect your donors with Classmunity's PCI compliant platform built upon Stripe, the gold standard in secure online credit card processing.
Perform
Reach your district's full fundraising potential
Keep at least 91% of all funds
Unlike traditional fundraisers such as cookie dough and gift wrapping paper, where you keep 50% of funds raised, you keep over 91% with Classmunity.
Integrated rewards functionality
Our rewards system encourages progress and makes campaigning fun again.
Student progress tracking
Track student progress with real-time reports for contests, scholarships and more.